PAINT AND VARNISHING STRIPPING SERVICE
TERMS AND CONDITIONS
We are here to help, please read our Terms and Conditions below before purchasing service.
Client Requirements
1. If Carmichael's are collecting the doors please the customer is required to take the doors down from their frames and placed in one location for collection. In a two storey property the doors shall be placed on the ground floor for collection ideally in the hall or garage. Carmichael's accept no responsibility for damage to property if doors are not placed in the location previously mentioned.
2. If Carmichael's are delivering the items, the doors or furniture will be placed on the ground floor hall entrance no further within the property. Carmichael's accept no responsibility for damage to property if the client requests the items to be placed in a location other than previously mentioned.
3. Carmichael's do offer a service for taking the doors off the frames, which is charged at £10 per door. This excludes rehanging which we would recommend a joiner performing. If employed to take down the door, Carmichael's will return each door to original location ready for the client to rehang.
4. All door furniture i.e. handles, locks, hooks etc must be removed previous to stripping by the customer. We can remove ironmongery on doors provided to us by a customer at a charge of £5 per door, the removal of which we do not guarantee.
5. If wallpaper is found on a door we charge an additional £10 per door to remove the wallpaper.
Risk
7. Under most conditions we can tell you when we see your items prior to stripping if the stripping process is a risk.
8. We will always be honest and tell you if we don't think the process will suit your items, and advise you not to proceed.
9. If you ask us to proceed with any item it will always be done at your risk entirely. It may sound obvious, but we cannot be held responsible for any imperfections that may be found beneath layers of paint/varnish. Such things as scorch marks from previous stripping with blow-lamps, patches of different wood pieced in during previous repairs etc. which can often be revealed by the stripping process
10. Also it is possible that veneered items have been painted over at some time. The stripping process almost always starts to remove the veneer. We don't advise caustic stripping of veneered items so will not be held responsible if you present them to us for stripping.
11. Although extremely rare bowing of door panels may occur
Collections/Deliveries
12. All goods not collected within 1 month of completion will be sold to cover stripping and storage costs.
13. We do not guarantee time for pick up or delivery.
14. There will be a £1 daily charge on any one item left after an agreed collection date not met by the customer.
Payments
15. A 3% surcharge will be levied on all card payments.
Exclusions
16. We do not guarantee glass or furniture left within doors and screens.
General
17. All claims and returned goods must be accompanied by an official receipt
FURNITURE AND ANTIQUE PURCHASE
TERMS AND CONDITIONS
Please read our Terms and Conditions below before purchasing
Purchase and delivery
We always recommend coming to the workshop to view the item prior to purchase. If you would like to visit the workshop, viewing is by appointment only. You can call or email us for a time to visit and most times are suitable which include Saturdays mornings, please arrange viewing for the weekend by the Friday be-fore. Unfortunately Sunday appointments are not available
If you can not visit and would like to purchase a piece of furniture through our website, that is no problem at all. You can purchase the item over the website and then give us a call or email to discuss the delivery or collection requirements. Or you can call or email us about the item in question, where we can give you a de-livery quote first and send you an invoice for your purchase by email.
We are just here to help so if you have any queries please just call us on 0191 234 0031 or email info@carmichaelsantiques.com

Delivery is charged by the mileage from NE6 3PH, delivery is done by a specialist courier company or by us. Delivery is door to door and is only to the ground floor/front entrance of the building and will also need assistance at your destination with the piece of furniture as delivery is operated by one man.
Carmichael's Antiques can arrange delivery for you and give you an estimated delivery time - we can not accept liability for delivery times/delay and damages which is out of our control - we will do our up-most to help, please notify the transportation company of any damage to the furniture upon the day the item is delivered as damages will not be accepted after.
We can deliver our furniture all over the U.K and are willing to liaise with a client's courier.
PLEASE NOTE
we are willing to liaise with a client's delivery company regarding collection from our workshop. However we can not be held responsible for anything beyond the courier taking charge of the object. This includes not accepting any liability for delivery days/times and any damages during transit.
Delivery costs England and Scotland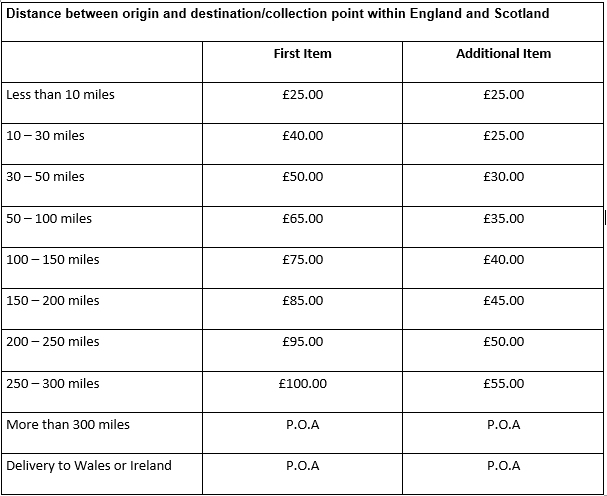 Cancellation of Order on Furniture

We will refund in full any order cancelled prior to being dispatched. If the item has been dispatched please see our section 'Full Refund Guarantee on Furniture' below

Furniture Returns

We understand that buying a piece of furniture on the internet can be a daunting process and for this reason we offer a fair returns policy. This allows you complete surety of purchase with the full knowledge that when it arrives and you are not happy with it, just send it back with the courier and all you will have to pay is the couriers delivery/return fee (you will be fully refunded the cost of the item not including the delivery).
Returns are accepted within 7 days should they differ or are faulty from the description. After initial delivery returns will not be accepted due to a change of mind, dimensions etc. Damages during transit are not our responsibility if a courier is used and will be arranged/repaired with the courier.

All returns must be in their original packaging and condition All refunds are less delivery charges, the cost of return delivery is to be met by the client

Terms and Conditions

If you purchased a piece of furniture and had a commissioned paint finish with Carmichael's Antiques, a refund will not be given unless the item is faulty, hand painted items are painted to a high standard but the item may show signs of age & character - the furniture is not new
Furniture that has been purchased and placed in the home that may shows signs of move-ment due to central heating i.e. slight shrinkage, slight splitting. the Antique pine workshop can not be held responsible for something out of our control and a refund will not be ac-cepted. We will do our upmost to help where we can
For items that have been waxed/painted and the colour of wax/paint chosen by the buyer, we can not accept responsibility for colour variation on the furniture and a refund will not be given

As nearly all of our furniture are genuine pieces they may show signs of old wood worm activity, they would have been in there original paintwork and have been stripped using a caustic soda solution which also kills woodworm and any re-infestation. But it is impossible to be sure that everything is 100% woodworm free & can not guarantee.
Obviously we do not knowingly purchase furniture that has woodworm The woodboring beetle or common furniture beetle can be relatively common in anitique furniture and the timber in period homes. Therefore, we cannot be held responsible for evidence or activity of woodworm or common furniture beetle,
if the furniture has been in the customers home for three months or longer. Within this time if you suspect woodworm activity we will treat the furniture for free. Any shipping would have to be met by the client How can I pay? Payment is required in full on purchase, we happily accept Visa, Mastercard, Bank Transfer, Cheque and Bankers Draft. Payment has to be cleared before items are released for delivery/client collection. Please note, if you pay by card an additional cost of 3% will be added to the total sum for this service.